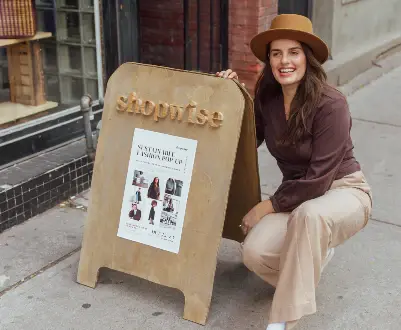 Shopwise is a slow-fashion sustainable boutique store hosting a diverse range of fashion and accessory brands. When they wanted to further their impact in the sustainable fashion industry and build customer loyalty, they came to us to make a difference.
Shopwise wanted a consistent impact that would run all year round, regardless of the current season. Leveraging our Portion of Sales donation engagement, Shopwise gave 2% of the proceeds of all items to charities focused on sustainable fashion and the planet. With our widget showcasing this commitment on Shopwise's product and checkout pages, Shopwise was able to not only make a difference in what they believed in, but a difference in their customer relationships as well.
As a result of our joint campaign, Shopwise has seen:
A 6% increase in repeat purchases as a result of engaging customers at the moment of purchase, telling their impact story where it matters the most.
A 3% increase in average order value
A 44% increase in conversion rate
"Thrilled to be using that app, as it aligns with our mission and adds so much value to our business and customers! As a social enterprise, Conscious Cart is essential."
-Jaclyn Patterson, Founder and CEO of Shopwise
Our main takeaway? A consistent reminder of your mission is the best way to build trust and help customers understand the values behind your brand. When customers see that you're committed to making a difference, and are made aware that you are actively giving back at multiple points in their shopping experience, they are more willing to shop with you and keep coming back.